Coaching for all with LevelUp
Now all employees and managers can benefit from professional 1–1 coaching. The LevelUp digital coaching platform is a scalable solution that ensures that your work is systematic and business-oriented in order to retain and develop employees at all levels.
LevelUp increases the value of your employees and managers and strengthens their daily performance, helping to achieve the organisation's overall goals and ambitions.
The platform replaces face-to-face meetings with more frequent and a greater number of digital meetings via chat and video. This ensures effective and flexible coaching processes. Discussions, exercises, knowledge base and objectives are gathered in one place, allowing the organisation to keep track of results and ensure that development follows overall business goals.

Coaching as required
Video calls and chat give the employee easy access to their personal, certified coach.

Set goals and follow developments
The employee and coach zoom in on focus areas, set goals and follow the development together. The goals match the organisation's overall business goals.

Feedback module
During the process, the employee can ask for feedback from, for example, their colleagues and own manager. This increases self-awareness and focus on progression.

Knowledge base
The coach shares hand-picked exercises, videos and articles to boost the employee's development.

Own reflections
The employee keeps regular note of personal considerations and reflections on their own learning. This creates commitment and increases the effect.

All in one easy-to-use system
1–1 coaching, exercises, knowledge base, reflections and development goals and results can be found in the same online solution. Can be accessed via all devices.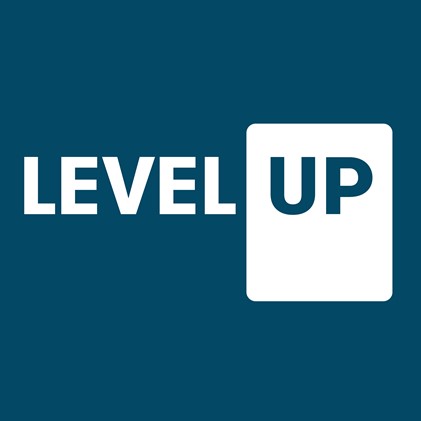 What does LevelUp cost?
Enter your email and we will send you our price list right away. Prices start from EUR 400 per month.
More touchpoints work
Coaching becomes more effective as the frequency and volume of touchpoints between coach and the focus person increases.
In the LevelUp app, the employee can use video and chat for both scheduled meetings and ongoing day-to-day dialogue.
At the same time, the built-in feedback and reflection tools ensure focus and progress.
Confidentiality and data security
All dialogue between the coach and employee is of course confidential. Three-party meetings with the immediate manager and how the organisation perceives the development are arranged by agreement with the employee.
Discussions are conducted over an integrated secure video function and sensitive data is protected and stored in accordance with GDPR, as with all other AS3 counselling services.
Fixed team of coaches
You will have a dedicated team of certified coaches around the organisation. The team shares knowledge across the organisation and returns recommendations to the organisation.
Each employee is matched with the coach who matches their profile and job function and who can best support the employee in achieving their goals.
We are here
Would you like to hear more about online coaching and LevelUp? Fill out the form or call us on +45 82 10 00 20 for a no-obligation chat.
What customers say about LevelUp

"It has been very exciting and very useful towards the goal I had formulated in collaboration with my coach. The very specific feedback I received from my colleagues, stakeholders and manager worked really well for me in combination with the coaching sessions. Already after just a few coaching sessions I found that I now had some good tools that would allow me to continue working with and to shift some of my existing convictions."
Maria Boerresen, Nordic HR Business Partner, Alcon
"I've had some super good and rewarding conversations on the platform. My coach was really accommodating and listening and helped me illuminate my challenge in several different ways. LevelUp is a really good tool for good dialogues and reflection."
Lone Østrup, HR Manager
About AS3 and LevelUp
LevelUp was developed in collaboration with our customers and has been designed, tested and optimised by AS3
The LevelUp process is well-founded and based on 30 years of experience in career advice and coaching
All of our coaches are certified and have extensive experience in business coaching
We have our own EMCC accredited triple level coaching qualification.
We offer coaching in English and all Nordic languages. AS3 has offices in Sweden, Norway, Finland and Denmark