Take the right step forward with your outplacement-programme
Outplacement is targeted job and career counselling for people who are facing a change of job and who need to start looking for jobs. Your personal job counsellor and our digital tools will support you throughout the entire programme. 
Together, we will come up with the right job search strategy, activate both your and our network - and turn you into a job candidate who is strong, attractive and successful.
Would you prefer to meet your counsellor and hear more (rather than to read this page)? Then book a non-binding meeting.
Personal counsellor and business coach
We are a large nationwide team of job counsellors with different professional backgrounds. That is why you always get a competent counsellor who is close to you and who matches your industry, your function and your job wishes.
Whether you are a manager, specialist, production employee or something completely different.
Your counsellor will guide you all the way as your sparring partner and coach at your individual sessions and by email, chat and phone.

Together, you will plan your programme so that it is based on you and your needs.
All the tools you need, in one place
You don't need to be an expert in either communication or social media. AS3's unique, digital job portal helps you create a professional CV, optimize your LinkedIn profile and go into dialogue with the right companies.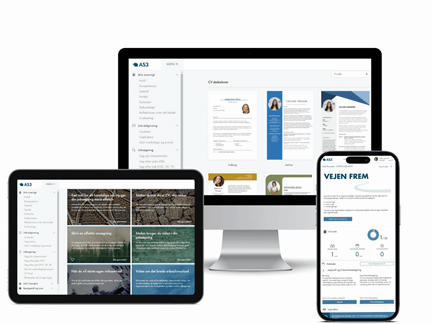 Job Match gives you a total overview of all current, relevant jobs from job portals, company pages and LinkedIn – every day
An intelligent AI search function matches your profile with new jobs. Maybe even before you are completely clear on what you want
Your personal job agent serves you new job proposals daily - based on your skills and preferences
Resume and application tool with countless professional templates
Webinars with career counseling experts
Professional articles and videos with recommendations for your job search - as well as exercises that you can easily use yourself
Access to AS3's professional network, where your profile can become uniquely searchable for +3,000 companies, recruitment agencies and headhunters
Targeted plan for your job search
We help you clarify your professional and personal competences, strengths and success stories. You will find out where to find the best job opportunities for you; and how to get there.
You will learn more about yourself, your competences and your values. You will also receive professional support to help you get over losing your job and to
move forward from a stronger position than before.
Together we create a plan that will get you all the way to your next job.
Group activities
During your course, we offer various group activities, which either take place online or in AS3's premises. Including special activities targeted at managers.
You can be assigned to a job team with other job seekers, which typically meet every 2 weeks. Or you can participate in workshops and get the experts' recommendations for CVs and applications, LinkedIn, job goals and training for the job interview and much more.
Want to meet us first?
If your company has offered you outplacement, you can book a meeting with your personal counsellor - and find out whether an AS3 programme is right for you.
Look forward to ...


A targeted strategy for your job search
A clear competence and job profile
Clarification of your career objectives
A potent and concise CV
A professional LinkedIn profile
Strong applications that will get you to an interview
A bigger network and more job opportunities
Strengthened impact for job interviews
A shorter path to your next job
"I was newly energised after all the sessions I attended. I was met at the exact point where I was and got a lot of useful input towards my job search." Former candidate
"Very trusting and inspirational advisor and a good range of tools and webinars that I could customize my own priorities 100%." Former candidate, manager
percent are extremely satisfied/satisfied with their personal counsellor
It all starts and ends with you
Two outplacement programmes are never the same. You may want to improve your ability to write job applications, use LinkedIn actively in your job search or train your impact at job interviews. You may also consider setting up your own business, moving to a different industry or starting a course of education.
Or perhaps you need help to clarify what motivates you most in your working life; and how to find even more of that in your next job. Your programme will be tailored to you and your future plans.
You and your needs are in focus from start to finish.
Are you already in a programme?
If you are already signed up for an outplacement programme you have access to the AS3 portal. Here you can gain knowledge and inspiration, find examples of applications and CVs, activate a job profile and search our job database.
LOG INto the AS3 PORTAL
About AS3 Transition
We are the largest outplacement company in the Nordics. We help thousands of managers and employees every year to make a fast and secure transition towards another job that is right for them.
We have offices throughout Denmark - and we are also in the largest cities in Norway, Sweden and Finland.
We are Global partner with LHH and The Adecco Group.